WAFF Holds First-Ever Virtual Congress
New Officers Certified, Decision on World Cup 2022 Host Postponed
A Motion to Expand the Executive Committee to Include All Regions Defeated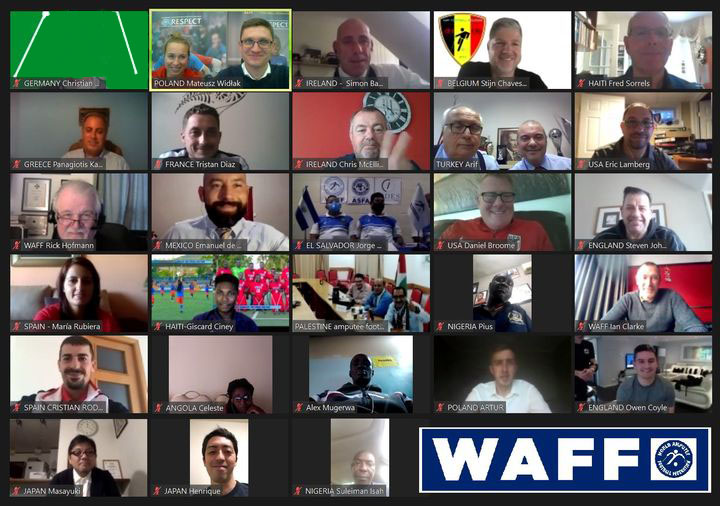 Some of the more than 30 delegates attending the first on-line Congress. Screen shot courtesy of Mateusz Widlak, Poland, and the WAFF.

More than 30 delegates from WAFF Member countries across 15 global times zones recently met to address Federation affairs and to certify new officers. The event was the first-ever such global meeting in Federation's history.

The Congress was originally scheduled as a traditional in-person to be held in Istanbul, Turkey. But the global pandemic caused the WAFF Executive Committee and Congress organizers to change plans in an abundance of caution and concern for delegate safety.

New Members Named to the WAFF Hall of Fame

In recognition of their leadership and outstanding contributions to our great sport Mr. Ademir Cruz de Almedia, Brazil, and Coach Rustam Kariyev, Uzbekistan, were unanimously approved as new members of the World Amputee Football Hall of Fame. Their photos and a brief look at their achievements are posted to the right.

Decision on a 2022 World Cup Coast Postponed

The Corona-19 virus pandemic is a constant in every day life. Under normal circumstances this Congress would have heard final presentations by bidders for the 2022 world Cup - in this case Krakow, Poland and Istanbul, Turkey.
But uncertainty about the course of the pandemic, uncertainty about potential government funding contributions, and potential shortened preparation lead-time led both prospective hosts to express their concerns about committing to the 2022 date.

Congress delegates expressed an understanding and an acceptance of the concerns, and even discussed the possibility of postponing the next world Cup tournament until the pandemic passes.

A Motion to Expand the Executive Committee
to Include All Regions Defeated

In an organization recognizing five international regions - Asia, Africa, Europe, North/Central and South America - the outgoing officers represented only Europe and North/Central America. Of the newly elected officers only Ms. Celeste Tchiama, Angola, represents a non-European region.
Noting that fact out-going President Richard Hofmann, USA, proposed that the Executive Committee be expanded to include a representative from each geographic region.

That proposal spurred the most lengthy debate of the Congress.
One group of delegates fully supported the concept of broad representation. But another group held that such a proposal should not be considered by this Congress but should be left to the in-coming Executive Committee.

Dr. Eric Lamberg, President of the American Amputee Soccer Association, asked that the new Executive Committee commit to considering the proposal and to report on the entire membership regarding the result of their deliberations.

That commitment was given. Mr. Hofmann then withdrew his proposal.

Officers Certified

Congress delegates unanimously approved the new slate of officers, all of whom ran unopposed. Photos of the new Executive Committee members and their offices can be seen below.
Mr. Arif Umit Uzturk

Turkey

President

Ms. Celeste Tchiama, Angola

1st Vice President

Mr. Mateusz Widlak

Poland

2nd Vice Preisdent

Mr. Simon Baker
Ireland
Resigned April 2021. The Office of Secretary General is vacant.

Mr. Owen Coyle

England

Treasurer

Mr. Ian Clarke

England

Chief Referee
Cruz, Kariyev Named to WAFF Hall of Fame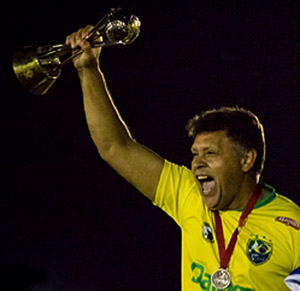 Hall of Fame Member Ademir Cruz de Almedia, Brazil
Sr. Cruz' achievements include:


He was a founder of International
Amputee Football


A former President of the World Amputee
Football Federation


Long Time President of
Brazilian Amputee Football


Captain of the Brazilian National
Amputee Football team.


Led Brazil to the European Championships in
1999, and World Cup Gold Medals in 2000,
2001, and 2005.


Ademir finished his outstanding career leading
Brazil to a Bronze Medal in the 2018 San Juan
de los Lagos World Cup.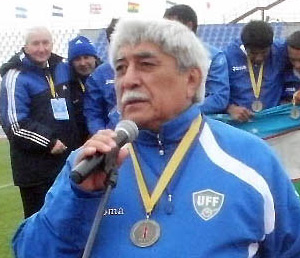 Hall of Fame Coach Rustam Kariyev
Uzbekistan



From not placing in the top 6 in the 2005 World Cup, Coach Kariyev took his team to three consecutive World Cup championships in 2007, 2010, and 2012.

His nomination included the key statement: "He is the only coach in the history of our game to achieve that feat and deserves to be recognized for it."