Upcoming Events!

30 January - EAFF Congress, Krakow, Poland

2 February - EAFF Championship Tournament,Krakow, Poland



March 8 - International Doay of Wowmen
Dominican Republic v. Haiti

May 15-17 Miramar (near Miami, Florida, USA) Soccer Festival Haiti, Dominican Republic, Jamaica, USA.

May 22-24 - EAFF Champians League Tournament

October 16-19 - WAFF Congress, TFF Riva Hasan Dogan National Teams Camp and Training Facilities in Istanbul,Turkey.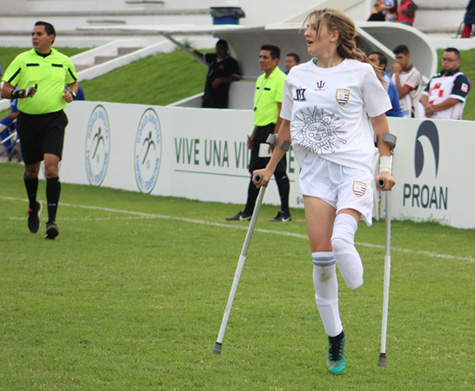 Women can now compete on your own teams for the fun of it, for local, regional and national competition; or elite competition up to and including your own World Cup.

Women Get A League
of Your Own First Tournament Set for May 15-17 2020

Women have been playing amputee soccer on the same pitch with the men since the game's very first day in 1982. Women have excelled at the at the local, national and elite World Cup level in what's called the fastest one-legged game in the world.

But women wanted a league of their own. And they won it.

The American Amputee Soccer Association and the World Amputee Football Federation - the sport's global governing body - welcomed the idea and are encouraging the creation of all-women's teams -- and your own World Cup.

The USA, Kenya, Haiti, Dominican Republic and the Philippines have kicked their women's programs into gear. More are expected.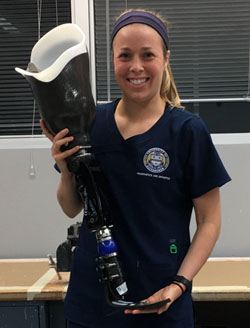 Sarah Glowa, Director of
USA Women's Program Development




First Women's Tournament

The first Women's Amputee Soccer Tournament is scheduled for May 15-17 in Miami, Florida, USA.

The competition will be part of a Soccer Festival marking the 10th Anniversary of the earthquake that devastated the island country.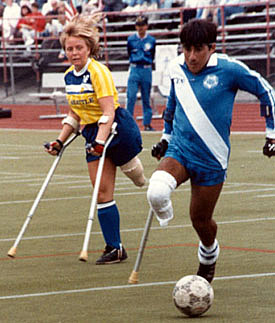 Women have been competing at the elite level since the first days of the sport. Here, USA's Bronyn Creed vs. El Salvador - 1987 World Cup

What's the Appeal?

Sarah Glowa, Director of Women's Program Development for American Women's Amputee Soccer, said "Many in the amputee community wonder what they'll be able to do in their new configuration. And there's no doubt that the success of the FIFA Women's World Cup has brought a lot of attention to the women's game.

"Now women in the amputee community have a chance to get out and play the game on their own terms."

"Women can get out, play the game, have some fun, have the opportunity to work up a good sweat again. And they can to excel to the world-class elite level if they choose to.

"And the game is not limited to amputees. Women with birth anomalies are also welcome in our game."

Ms. Glowa is a former collegiate women's soccer stand-out at the State University of New York at Oneonta. She was named New York State Section II Class A Player of the Year in 2010. She's also a practicing prosthetist.

Prospective players, coaches, organizers and administrators, also please see the full Laws of the Game.
| | | | |
| --- | --- | --- | --- |
| She may qualify for the international game when she turns 16. Photo courtesy of Maciej Gillert, Poland. | | Team Haiti is getting ready for the first Women's Amputee Soccer Tournament in Miami, Florida, USA. | Kenya's Women are ready to play. |