History compiled by:
Richard Hofmann, USA
James Frere, England
Don Bennett & Dee Horton Malcho - Founders, USA
The First Kick - September 1982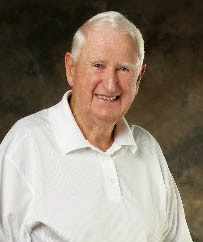 Don Bennett invented the game "by accident" in 1982. He's still active in the game and most recently help develop the sport in Mexico. He was first person elected to the into the World Amputee Football Federation Hall of Fame.




Don Bennett, of Seattle, Washington, USA, was always active - skiing, boating, mountain climbing. Then he lost his leg to a propeller in a boating accident. That may have changed his style of activities, but not his love for or his level of activity.

One example of his drive to remain active: Don became the first amputee ever to climb Washington's Mt. Rainier (the second highest peak in North America) on crutches.

Simple Beginnings: Don Bennett created amputee soccer by accident. True.

He was watching his son practice basketball in his back yard. At one point a basketball escaped and began rolling down the driveway. Don, on crutches and without his prosthesis, simply raised up on his crutches and kicked the ball back to his son.

In a flash of insight, Don figured if he could kick a basketball on crutches, he could kick a soccer ball on crutches. It was a deceptively simple beginning to what's become a world-wide sport.

At the time Bennett was more involved with skiing than soccer. So he and a group of seven other skiers used the game to keep active and stay in condition during the summer while waiting for ski season.

But the game caught on.


Founder Don Bennett center, in white T-shirt, and the very first amputee soccer team.

In 1985 Bill Barry, a soccer coach with Canadian and US pro team experience, became the coach of a team under the Seattle Handicapped Sports and Recreation Association (SHSRA). He eventually established Amputee Soccer International. Bennett continued to serve as the team's manager.

It was through his efforts, with the assistance of Don and other members of the Seattle group, that the sport was established in other countries.

Barry traveled through Central America and Eastern Europe introducing the game to anyone who would come out and watch.

At that time The Soviet Union declined to have anything to do with the game because they claimed not to have any handicapped persons.

1984 The first international amputee soccer tournament is held in Seattle, Washington, USA. American Canadian and Central American teams participate.

For the first several years of the game the goals remained regulation size and the game was played on a regulation American style football field.

The Boeing Aircraft Company became a major supporter of the game, sponsoring annual international championship events between 1986 and 1991.

One of Barry's skills was to attract media attention through a series of exhibition matches held in conjunction with other major sporting events: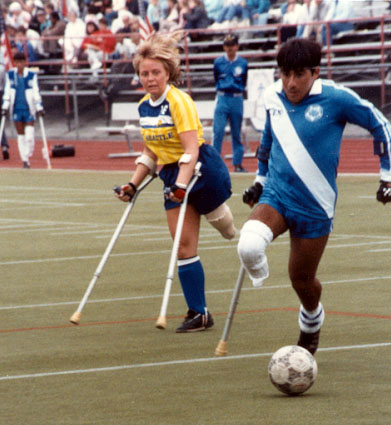 The sport was designed to be played by all amputees. Women were among the first players and have competed in international competition. USA represented here by Ms. Bronyn Creed.

1984 A match at Seattle Memorial Stadium before 8,000 people during the US Olympic Soccer Team Tour.

1985 A match before 25,000 fans at a Seattle Mariners New York Yankees baseball game at the Seattle King Dome. 1986 A match seen by 47,000 fans during at halftime at a Canadian professional football game.

1994 SoccerFest at the LA Convention Center during the World Cup tournament, and during halftime of an Anaheim Splash (MISL) match in the same time frame.

1987 Pitch and goal size and other rule adaptions adopted to make the game our own.

El Salvador military veterans win the World Cup. Jose Baldimir Melgar Maravilla, a star player for El Salvador nicknamed "Rambo" for his ever present headband, scored a tournament leading six goals for the champions. El Salvador struck a postage stamp in his honor.

1988 Amputee soccer introduced in England by Dr. Gwynn Thomas, British Amputee Sports Association, as a rehabilitation activity. Later in the year England sent a team to Seattle for the 1988 World Cup.

England won the indoor competition and took the Bronze behind El Salvador (Gold) and USA) Silver in the outdoor competition.

1988 Barry introduces amputee soccer in Uzbekistan.

1989 Russia and Brazil establish amputee soccer programs and send teams to the championships.

1991 World Cup tournament, Tashkent, Uzbekistan. First World Cup held outside North America.


Latter Day Amputee Soccer
Amputee Soccer provides an arena where individuals from all cultures and points of view can come together in friendship and sportsmanship.

1998, August World Cup Championships, Manchester, England.
Gold - Russia
Silver - Uzbekistan
Bronze - Brazil

1998, December The game's first formal governing body, the International Amputee Football Federation, is formed in Moscow, Russia. Georgi Lunacharsky, Russia, President.




Delegates include, from left: Rick Hofmann, USA; Jim Frere, England; the late Evgeny Zinkovski, Russia; Georgi Lunacharski, Russia. Other delegates included Ademir Cruz de Almedia, Brazil; Steve Johnson, England; David Mizuradze, Republic of Georgia, and Yuri Prokohrento, Ukraine.




1999 First Open European Championships, Kiev Ukraine.
Gold - Brazil
Silver - Russia
Bronze - Uzbekistan

2000 World Cup - Seattle, Washington, USA.
Gold - Brazil
Silver - Russia
Bronze - Ukraine

2001 World Cup, Rio De Janeiro, Brazil
Gold - Brazil
Silver - Russia
Bronze - England





Captain Ademir Cruz de Almedia celebrates Brazil's 2nd consecutive World Cup Championship - 2001.


2002 World Championships, Sochi, Russia
Gold - Russia
Silver - Brazil
Bronze - Uzbekistan
In the bi-annual Congress member nations vote to disband the IAFF.


2003 World Championships, Tashkent, Uzbekistan.
Only four teams participate.
Gold - Russia
Silver - Ukraine
Bronze - Brazil
Fourth - Uzbekistan


2005 World Cup, Rio De Janeiro, Brazil
Gold - Brazil
Silver - Russia
Bronze - England
4th - Ukraine
5th - Sierra Leone
6th - Turkey
Member nations in Congress form the World Amputee Football Federation. Steve Johnson, England, President.


2006 Volgograd Open Championships, Volgograd,
Russia Sept. 24 - 30, 2006
Gold - Russia
Silver - Great Britain
Bronze - Uzbekistan

2007, February First All-Africa Amputee Soccer Tournament held. Freetown, Sierra Leone.
Gold - Ghana
Silver - Liberia
Bronze - Sierra Leone




First CANAF - Cup of African Nations Amputee Football.


2007 World Cup - Antalya, Turkey, November 11 - 21, 2007.
Gold - Uzbekistan
Silver - Russia
Bronze - Turkey


2008 European Amputee Football Championship Dec. 1-6, 2008
Gold - Russian
Silver - Turkey
Bronze - England

2009 World Cup 2009 - Nova Friburgo, Brazil
Host City reneged on commitment to host. World Cup canceled.


2010 World Cup - Crespo, Argentina October 16 - 23, 2010.
Gold - Uzbekistan
Silver - Argentina
Bronze - Turkey


As Association president and team captain, Hugo Herenu (blue and white stripes) hosted 14 other teams in Crespo, Argentina, for the 2010 World Cup - that country's first major amputee football tournament.


2012 World Cup - Kaliningrad, Russia October 6 - 15, 2012.
Gold - Uzbekistan
Silver - Russia
Bronze - Turkey






Legendary Coach Rustam Kariev takes Uzbekistan to its third consecutive World Cup Gold Medal.



2014 World Cup - Culiacan, Mexico Nov. 30 - Dec 8, 2014.
Gold - Russia
Silver - Angola
Bronze - Turkey


2017 European Championships, Istanbul, Turkey, Oct. 2017
Gold - Turkey
Silver - England
Bronze - Poland
4th - Spain


Largest crowd ever to watch an amputee soccer match. European championship match Turkey v. England, Vodafone Park, Istanbul, 41,188 fans.




2018 Nairobi, Kenya
Kenya forms first ever all women's amputee football team.





Under the leadership of President Ms. Charity Kamau, the Kenya Amputee Football Federation (KENAFF) formed the first ever national women's amputee football team.



2018 World Cup - Guadalajara, Mexico Oct. 24 - Nov. 6, 2018.
Gold - Angola
Silver - Turkey
Bronze - Brazil
4th - Mexico

Unless otherwise noted, all text, images and video on this site are Copyright
R. G. Hofmann and Ampsoccer.com. All rights reserved.
For permission to reproduce these images
Contact us
.