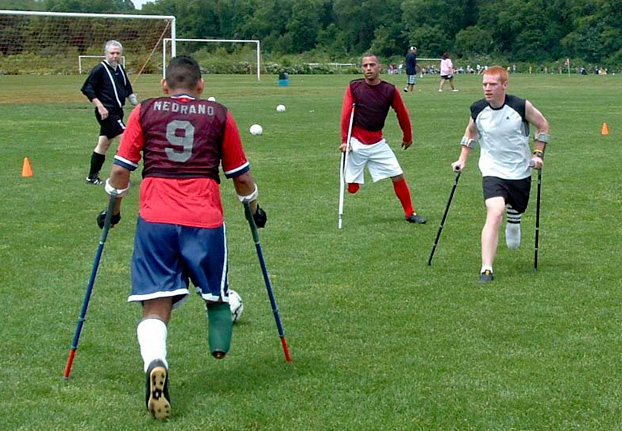 4 x 4 rules are designed to help develop new and loal teams
4 x 4 Rules of the Game
4 v 4 Amputee Soccer is a great game for rehab, recreation, and for competition. The 4 v 4 game is especially adapted for developing local teams.

The overall philosophy of the 4 v 4 game is to include all amps and "Les Autres" (individuals with birth defects) who want to play.

If there are too few amputees to form a team in a specific area to form an "all amp" team, there are exceptions to the basic rules which will allow teams to be formed.

The Rules: amputee soccer is basically the same as the two-legged version, with some minor adaptations. 4 vs. 4 rules vary ony slightly from International Tournament Rules

General 4 x 4 Rules:
Exceptions: As stated above the overall objective of 4 v 4 Amputee Soccer is to allow everyone to play who wants to play.

Therefore "able bodied" players - thosem of "traditional configurations" - may fill in a short roster under the following conditions:

a: Amputee and "Les Autres" players have priority.

b: A traditionally configured individual may tend goal if no arm amputees are available. But that individual must keep one arm tucked inside his/her jersey while on the playing field.



c: A traditionally configured individual may play as a substitute field player. That individual must play on crutches, may not wear a shoe on the non-kicking foot, and may not run or touch down with the non-kicking foot during play.

Touching down with the non-kicking foot will result in a turn-over at the point of the infraction.

Players: 3 per side, plus keeper. A team must have more amputee or Les Autres players than able bodied substitutes.

Goal Keeper Rules: The goal keeper may not leave the goal area to play the ball or to interfere with play. If this occurs and is deliberate, the goalkeeper receives a yellow card and the opposition is awarded am indirect free kick. On the second deliberate occurrence the keeper receives a red card and is dismissed from the field. The opposition again awarded an indirect free kick.

Player Substitution: Due too the physical demands of the game substitutions may be made at any stoppage of play and shall be unlimited.

Play Against Traditionally configured teams: Yes, there will be times when you'll want to play, both recreationally and competitively, against traditionally configured teams. And you'll both love it. The two-leggeds play according to the "Exceptions" detailed above.

Other than that, the rules are the same as FIFA.