Chilean National Team Prepares for World Cup Bid


By the end of the year the Chilean national select team will play a friendly against the Argentine national team as it works toward a place in the upcoming WAFF World Cup.

According to the lanoticia.cl web site, the Chilean program began two years ago and has been building strength, followers and supporters since then. Head Coach Juan Pablo Schaaf acknowledges the challenges of taking a new program onto the world stage saying "Many challenges are coming, but we have tremendous player quality." LaNoticia says the proposed friendly with Argentina is scheduled for this December.

Photo at right courtesy of LaNoticea.cl.



---
Iraq Applies for WAFF Membership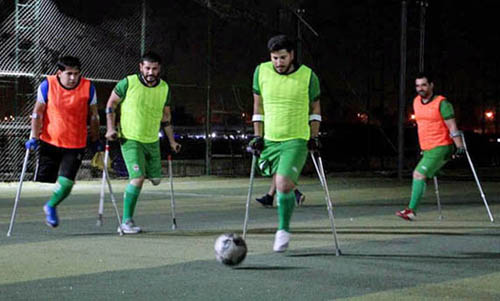 Photo courtesy of Dr. Mohammed Al-Najjar.


Iraq has formed an amputee football organization and has applied to WAFF for Provisional Membership. Provisional Membership allows a new organization to participate in most WAFF events and activities while finalizing their constitution and other organizational requirements.

The Iraqi organization was founded by Dr. Mohammed Al-Najjar, a former footballer who played for Portsmouth Amputee FC in England. An acquaintance of WAFF Treasurer and England Coach Owen Coyle, Dr. Al-Najjar is familiar with the rules of our game and plans to establish a league of teams throughout Iraq.
EAFF Announces the Passing of Georgia's
Head Coach Avto Chikhladze


On Friday, September 3, 2021, The European Amputee Football Federation issued the following statement on the passing of Head Coach of the Georgian Amputee Soccer Team: "It is with sadness we announce the passing of Avto Chikhladze.

Avto was a great man and a prominent member of the Georgian Amputee Football Federation, leading the team during the last European Championships in Turkey. All at EAFF (The European Amputee Football Federation) would like to pass on our deepest condolences to the family of Avto and to all his colleagues at Georgian Amputee Football Federation & all his friends. A man with a big heart and passion for amputee football who will be sadly missed."


Source: European Amputee Football Federation